May 06, 2015
Panel Backs Medical Marijuana for Migraine in Illinois
the Clinical Pain Advisor take:
An advisory panel in Illinois has recommended that medical marijuana be permitted as a treatment for post-traumatic stress disorder, though it declined to recommend cannabis for anxiety and diabetes
With the blessing of the Illinois Medical Cannabis Advisory Board, which is composed of clinicians, nurses, patients (including one veteran), it is now up to the Illinois Department of Publich Health to make a final decision.
State lawmakers approved the use of medical marijuana beginning last year. So far, more than 30 conditions, including AIDS, cancer and lupus, are eligible for treatment with cannabis, though red tape had delayed the availability of the drug to patients.
Among the conditions newly approved by the panel as eligible for marijuana treatment was migraine headaches, irritable bowel syndrome, and peripheral polyneuropathy and diabetic neuropathy, two nerve pain conditions. Anxiety was rejected because members thought the category was too broadly defined.
PTSD "is very straightforward in my mind," Eric Christoff, MD, a general internist and at Northwestern Medicine and advisory board member said, the Chicago Tribune reported. "The risk of not correctly, in a patient-centered way, addressing PTSD, is death or suicide, so the stakes are high."
A recent analysis found that revenues in the first year of medical marijuana sales in the state could be between $15 million and $30 million.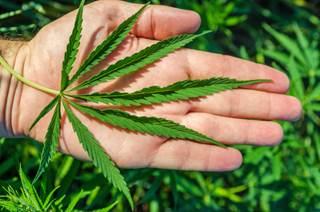 A panel recommended allowing medical marijuana for a number of conditions, including osteoarthritis and post surgical pain as well.
An Illinois panel Monday recommended allowing medical marijuana to treat post-traumatic stress disorder, anorexia and migraine headaches, but rejected its use for anxiety and diabetes.
The Illinois Medical Cannabis Advisory Board supported the drug's availability for 11 new medical conditions in all, including chronic post-surgical pain, osteoarthritis and irritable bowel syndrome.
The recommendations, if approved by the Illinois Department of Public Health, would significantly increase the list of conditions for which medical pot can be accessed. As it stands, sufferers of about three-dozen disorders and diseases, including AIDS, cancer and lupus, can be eligible for medical marijuana — though a series of delays has so far rendered medicinal pot unavailable in the marketplace.
Sign Up for Free e-Newsletters