April 08, 2015
Chronic Traumatic Encephalopathy Protein Pattern Detected
the Clinical Pain Advisor take:
People suspected of having chronic traumatic encephalopathy (CTE) have similar, abnormal protein-deposit patterns in their brains, according to a study published in the Proceedings of the National Academy of Sciences.
The researchers used a novel imaging technique that combines a chemical marker with a PET scan, which they initially tested on five retired NFL players in a 2013 study. In the new study, they wanted to replicate their results with a larger number of players.
CTE affects athletes who have been exposed to repeated brain injuries and can cause memory loss, confusion, progressive dementia, depression, suicidal behavior, personality changes, abnormal gaits, and tremors. Currently, the only definitive way to diagnose CTE is after an autopsy. The researchers wanted to find a way to diagnose CTE in living people.
The study included 14 retired NFL players who had sustained at least one concussion, 28 controls, and 24 age-matched people with Alzheimer's disease. The researchers used their imaging technique to look for buildups of tau protein in the brain regions controlling mood, cognition, and motor function. Each participant also underwent MRI scans, neuropsychological testing, and neurological/physical exams to determine if they had symptoms of CTE, Alzheimer's disease, or normal aging.
These protein buildups exist in the brains of people with Alzheimer's disease, but the results showed that the retired NFL players showed distinct tau buildup patterns. These patterns were consistent with tau patterns found in autopsy studies of people with CTE. The researchers identified four patterns in the NFL players that could signify four different stages of the disease.
The researchers hope that identifying CTE in living people will allow scientists to develop treatments that can potentially delay disease progression.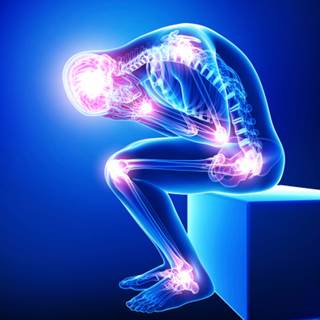 Protein Pattern in Chronic Traumatic Encephalopathy Identified
Chronic traumatic encephalopathy (CTE) is an acquired primary tauopathy with a variety of cognitive, behavioral, and motor symptoms linked to cumulative brain damage sustained from single, episodic, or repetitive traumatic brain injury (TBI). No definitive clinical diagnosis for this condition exists.
In this work, we used [F-18]FDDNP PET to detect brain patterns of neuropathology distribution in retired professional American football players with suspected CTE (n = 14) and compared results with those of cognitively intact controls (n = 28) and patients with Alzheimer's dementia (AD) (n = 24), a disease that has been cognitively associated with CTE.