July 10, 2017
Lesinurad Plus Febuxostat for Tophaceous Gout
This article originally appeared
here.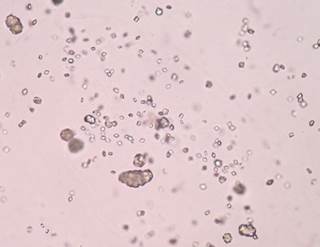 Higher rates of reversible serum creatinine elevation was observed in the lesinurad-treated groups.
What You Need to Know
In patients with tophaceous gout, combination therapy of lesinurad plus febuxostat is more effective at reducing serum urate (sUA) levels as well as total target tophi area compared with febuxostat monotherapy.
Trial Design
Randomized, placebo-controlled, phase 3 study evaluated the safety and efficacy of lesinurad + febuxostat compared to

febuxostat

alone in patients with tophaceous gout

"Patients with serum urate (sUA) ≥8.0 mg/dL (≥6.0 mg/dl on urate-lowering therapy) and ≥1 measurable target tophus were given febuxostat 80mg daily for 3 weeks before randomization to lesinurad (200 or 400 mg daily) or placebo added to febuxostat"
Primary endpoint: percent of patients attaining sUA <5.0 mg/dL at month 6
Secondary endpoint: percent of patients with resolution of ≥1 target tophus at month 12
Additional endpoints: change in percent of total target tophi area, safety assessments (adverse events, laboratory findings)
Key Outcomes
76.1% of patients receiving 400mg of lesinurad (P <.0001) and 56.6% of patients receiving 200 mg lesinurad (P =.13) achieved sUA target by Month 6 vs 46.8% of patients receiving febuxostat alone
"At all other timepoints, significantly more patients in the lesinurad 200 mg group achieved sUA target"
No difference in complete tophus resolution observed between groups
Total target tophi area was reduced in patients receiving 200 mg and 400 mg of lesinurad + febuxostat compared to febuxostat monotherapy (50.1% and 52.9% vs 28.3%, respectively; P <.05)
Safety assessments were similar among groups, however higher rates of reversible serum creatinine elevation was observed in the lesinurad-treated groups

Follow @ClinicalPainAdv
Reference
Dalbeth N, Jones G, Terkeltaub R, et al. Lesinurad, a Selective Uric Acid Reabsorption Inhibitor, in Combination With Febuxostat in Patients With Tophaceous Gout: A Phase III Clinical Trial. Arthritis Rheumatol. 2017. doi: 10.1002/art.40159