July 10, 2015
FDA Strengthens Heart Attack, Stroke Warnings On Popular Painkillers
the Clinical Pain Advisor take:
The Food and Drug Administration (FDA) is now requiring tougher language on warning labels for popular painkillers. The agency now wants users to understand how heart attacks and stroke can occur within the first few weeks of taking prescription and over-the-counter (OTC) nonsteroidal anti-inflammatory drugs (NSAIDs).
Found on the FDA's website:
"The labels for both prescription NSAIDs and OTC NSAIDs already have information on heart attack and stroke risk. In the coming months, FDA will require manufacturers of prescription NSAIDs to update their labels with more specific information about heart attack and stroke risks. FDA will also request that the manufacturers of OTC NSAIDs update the heart attack and stroke risk information in Drug Facts labels."
What's causing the change in policy? The FDA added a boxed warning to prescription drug labels for this heart attack and stroke risk in 2005. With regard to NSAID labeling, the FDA said it decided to make changes because there's now more data and information available on this topic.
Individuals who have cardiovascular disease, specifically those who've recently had cardiac bypass surgery or a heart attack, are at the greatest risk -- but that doesn't mean this is only the case for this population in particular.
"Everyone may be at risk -- even people without an underlying risk for cardiovascular disease," said Judy Racoosin, MD, MPH., deputy director of FDA's Division of Anesthesia, Analgesia, and Addiction Products, in a statement.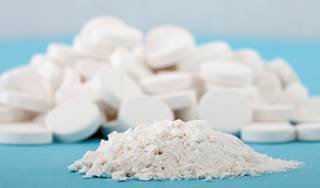 The FDA is now requiring tougher language in warning labels for popular painkillers.
Federal health regulators are bolstering warning labels on popular
pain relievers
like Advil and Aleve, adding new information about the risks of heart attack and stroke. The change applies to over-the-counter
medications
as well as more high-powered prescription drugs. Language on the anti-inflammatory pills currently warns that they can increase the risk of heart-related problems if used long term.
Sign Up for Free e-Newsletters