February 19, 2015
Doctors Less Likely to Divorce Than Other Health Care Professionals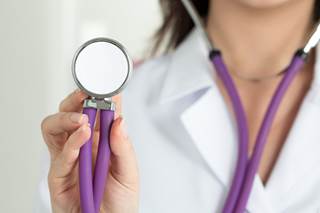 Doctors Less Likely to Divorce Than Other Health Care Professionals
HealthDay News -- Doctors appear less likely to get divorced than most other health care professionals, according to research published online in The BMJ.
"It's been speculated that doctors are more likely to be divorced than other professionals because of the long hours they keep and the stress associated with the job, but no large-scale study has ever investigated whether that is true," said senior study author Anupam Jena, MD, in a Massachusetts General Hospital news release. He is a hospital physician and an assistant professor at Harvard Medical School in Boston.
In their study, the researchers analyzed the results of surveys of more than 40,000 doctors and 200,000 nurses, pharmacists, dentists, and health care executives, conducted between 2008 and 2013.
Those who said they'd been divorced included 23% of pharmacists, 24% of doctors, 25% of dentists, 31% of health care executives, and 33% of nurses.
The researchers also looked at people who work outside the health field, and found that 35% of them had been divorced. Among doctors, women were about 1.5 times more likely to have been divorced than men of a similar age. Female doctors who worked more than 40 hours a week were more likely to be divorced than those who worked fewer hours, while the reverse was true among male doctors.
Study lead author Dan Ly, MD, explained in the news release: "We believe that the higher incidence of divorce among female physicians stems from the greater tradeoffs they are forced to make to achieve work/life balance." Ly is a medical resident at the hospital. "More research is needed to understand whether that interpretation is indeed accurate and, if it is, what can be done to help with work/life balance," he added.
Reference
1. Howe A, et al. BMJ. 2015; DOI: http://dx.doi.org/10.1136/bmj.h791