January 29, 2015
Plantar Fasciitis Pain Eased With Stretching Exercises
the Clinical Pain Advisor take:
Patients with plantar fasciitis may benefit from a simple daily stretching exercise as much as those in conventional treatments, according to a study published online in the Scandinavian Journal of Medicine & Science in Sports.
Researchers from the Orthopaedic Surgery Research Unit, Research and Innovation Centre, Aarhus University Hospital, in Aalborg, Denmark randomly assigned 48 patients with plantar fasciitis to either daily stretching exercises with shoe inserts, high-load progressive strength training and shoe inserts and then followed up with the patient four weeks, 24 weeks and a year later.
The researchers reported that all of the patients' foot function indexes had improved over the study period, with the group that did stretches only improving by 16 points, and the strength group reporting A FFI that had dropped 22 points by the study end.
According to the Mayo Clinic, there are other tips that patients can do to reduce the pain of plantar fasciitis, including, but not limited to: "maintaining a health weight, choosing supportive shoes, avoiding wearing worn-out shoes, changing the sport, as well as applying ice."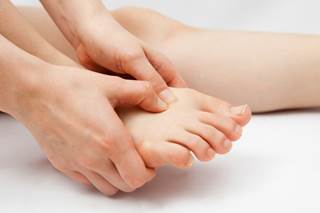 There are several tips your patients can do at home to ease plantar fasciitis pain.
A simple progressive exercise protocol, performed every second day, resulted in superior self-reported outcome after 3 months compared with plantar-specific stretching. High-load strength training may aid in a quicker reduction in pain and improvements in function
Sign Up for Free e-Newsletters
Check out what's trending