June 18, 2015
Self-Harm Rates Rising Among Adolescents, Teens
This article originally appeared
here.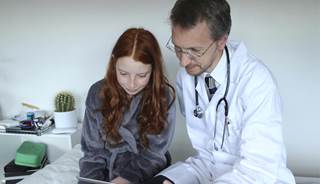 Researchers pulled information from a national database on trauma patients.
HealthDay News -- Between 2009 and 2012, self-injuries accounted for a rising percentage of children's emergency department trips -- increasing from 1.1 to 1.6% of all visits, according to a study published online in Pediatrics.
The researchers pulled information from a national database on trauma patients. It included 286,678 10- to 18-year-olds who were treated in an emergency department between 2009 and 2012.
Overall, 1.3% of the patients (3,664) were diagnosed with a self-inflicted injury.
The most common cause was cutting, followed by firearm injuries. Cutting injuries increased over time, and it was particularly common among girls -- accounting for almost half of their self-inflicted injuries. Burns, intentional falls, suffocation, and poisoning were among the other ways adolescents hurt themselves.
Just over 4% died from their injuries -- making children who self-harm 13 times more likely to die in the emergency department than children treated for other reasons.
Gretchen Cutler, PhD, MPH, the study's lead researcher from the Children's Hospitals and Clinics of Minnesota in Minneapolis, told HealthDay that there was one bright spot in the findings: Firearm injuries actually declined over time, from 27% of all self-inflicted injuries, to 22%.
Cutler said it's not clear why those injuries declined, while self-injuries overall rose. It's possible that adults are doing a better job of keeping firearms away from children, she speculated. "Or," Cutler said, "there may have been a shift in the mechanisms children are using to self-injure."