December 21, 2016
Future Neonatal Pain Studies Need More Ethical Controls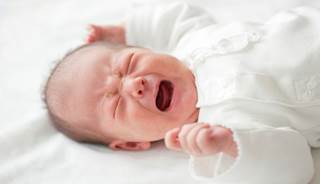 Meta-analysis shows reduction in pain and crying time for neonates, but most trials still include a placebo/no-tx arm.
HealthDay News — Despite evidence for sweet taste reducing pain and crying time in neonates, most trials still include placebo/no-treatment arms, according to a review published online Dec. 16 in Pediatrics.
Denise Harrison, RN, PhD, from the Children's Hospital of Eastern Ontario in Ottawa, Canada, and colleagues conducted a systematic review of all trials evaluating sweet solutions for analgesia in neonates and conducted cumulative meta-analyses (CMAs) on behavioral pain outcomes. Data were included for 168 studies; 88% included placebo/no-treatment arms.
The researchers found that the CMA for crying time included 29 trials with 1175 infants. There was a statistically significant reduction in mean cry time for sweet solutions versus placebo from the fifth trial in 2002 (−27 seconds). CMA was −23 seconds in favor of sweet solutions by the final trial. For pain scores, CMA included 50 trials with 3341 infants. From the second trial the results were in favor of sweet solutions. A standardized mean difference of −0.9 was seen in the final results.
"Evidence of sweet taste analgesia in neonates has existed since the first published trials, yet placebo/no-treatment, controlled trials have continued to be conducted," the authors wrote. "Future neonatal pain studies need to select more ethically responsible control groups."
Reference
Harrison D, Larocque C, Bueno M, et al. Sweet solutions to reduce procedural pain in neonates: a meta-analysis. Pediatrics. 2016; doi:10.1542/peds.2016-0955.