April 16, 2015
Muscle Mass Linked With Pediatric Bone Development
the Clinical Pain Advisor take:
Higher muscle mass appears to be strongly associated with healthier bone development, as indicated by size, shape and density of limb bones, in children aged 6 to 7 years, new research published in the journal Bone suggests.
Data did not, however, demonstrate a relationship between fat mass and bone development.
"Bone strength and size is important because they are significant factors in long-term osteoporosis and fracture risk," lead study investigator Rebecca Moon said in a press release. "A 10% increase in peak bone mass will delay the onset of osteoporosis by 13 years. These findings point to the importance of early childhood physical activity to optimize muscle and bone growth."
For the study, the researchers evaluated the total fat and lean mass of 200 children (48.5% boys) enrolled in the Southampton Women's Survey soon after birth and again at age 6 to 7 years using DXA. Bone mineral density (BMD), shape and size of the tibia were also evaluated.
Data showed that the change in lean mass adjusted for the change in fat mass was positively associated with tibial total cross-sectional area at both the 4% and 38% sites, cortical cross-sectional area and trabecular volumetric BMD, but not with cortical volumetric BMD, the researchers reported. These findings also held true after adjustment for linear growth.
Change in fat mass adjusted for change in lean mass, however, was only associated with 38% total and cortical cross-sectional area, which became nonsignificant after adjustment for linear growth, according to the data.
Results also indicated a stronger relationship between changes in lean muscle and bone development in girls than in boys, even after adjustment for children's ages, which ruled out pubertal onset as a factor.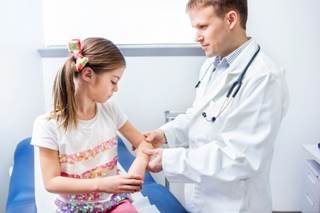 Muscle mass has been linked with bone development in children.
Background
Studies in childhood suggest that both body composition and early postnatal growth are associated with bone mineral density (BMD). However, little is known of the relationships between longitudinal changes in fat (FM) and lean mass (LM) and bone development in pre-pubertal children. We therefore investigated these associations in a population-based mother-offspring cohort, the Southampton Women's Survey.
Conclusion
In this study, gain in childhood LM was positively associated with bone size and trabecular vBMD at 6–7 years of age. In contrast, no relationships between change in FM and bone were observed, suggesting that muscle growth, rather than accrual of fat mass, may be a more important determinant of childhood bone development.
Sign Up for Free e-Newsletters
Check out what's trending