August 31, 2016
Pain Week 2016 Highlights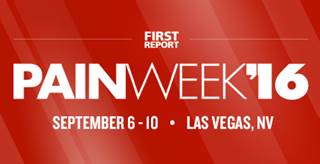 Clinical Pain Advisor brings you the latest from Pain Week 2016.
Pain Week 2016 is now underway in Las Vegas, NV, and will run through Saturday, September 10th.
Tune in to Clinical Pain Advisor's live conference coverage focused on:
Integrative strategies and therapies for pain management
Pain psychology to address the national opioid crisis
Team approaches for chronic pain management
Coping skills for patients with chronic pain
Interventional pain management options
And much more, including video interviews with renowned pain practitioners and researchers from around the country.

Follow @ClinicalPainAdv