September 13, 2016
Effective Ways of Preventing Chronic Pain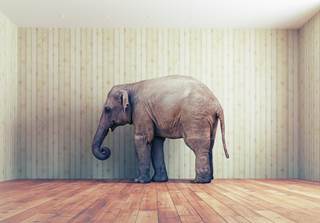 Chronic pain: the elephant in the room.
LAS VEGAS—Chronic pain is the number 1 reason that people seek healthcare, making it the top driver of healthcare costs in the United States (up to $635 billion in 2012).1
Because opioid-based treatments are often required to treat chronic pain, this condition also is the the number 1 contributor to addiction.2 These statistics demonstrate how imperative it is to devise effective ways, not only to manage chronic pain, but also to prevent it, according to a presentation during PainWeek 2016, by James R. Fricton, DDS, MS.3
Awareness of risk factors for chronic pain (eg, smoking, stress, inadequate sleep, or poor diet) as well as protective factors (eg, exercise and anti-inflammatory diet) is essential to preventive efforts. Such risk factors may delay healing from an injury and promote the transition from acute pain to chronic pain, said Dr Fricton.
According to him, risk and protective factors for chronic pain fall under 7 categories: body, lifestyle, emotions, spirit, society, mind, and environment.
To get patients to adopt the adequate behaviors that will reduce the likelihood of developing chronic pain, Dr Friction advocates for improved education of healthcare professionals (HCPs) through training, and of patients by way of coaching and training.
The goal with HCP education should be focused on an "interdisciplinary, integrative, and individualized approach to patient care," in which HCPs receive training and certification to coach patients regarding indicated lifestyle changes, educate them on disease processes and management options, and conduct biobehavioral assessments.
It is essential, according to Dr Fricton, to connect patients with HCPs in an endeavor to identify additional risk and protective factors and evaluate novel treatments. Finally, advocacy Is necessary, to raise awareness on prevention to chronic pain, in addition to its treatment, he said.
Advocacy efforts may be directed to government to promote policies supporting public health awareness and research, to businesses, to encourage healthy working environments, to health insurers, to reimburse patient coaching and training, and to communities to develop chronic pain prevention programs.
Follow @ClinicalPainAdv
References
Gaskin DJ, Richard P. The economic costs of pain in the United States. J Pain. 2012;13(8):715-724.
Sehgal N, Manchikanti L, Smith HS. Prescription opioid abuse in chronic pain: a review of opioid abuse predictors and strategies to curb opioid abuse. Pain Physician. 2012;15(3 Suppl):ES67-92.
James R. Fricton, DDS, MS. Chronic Pain Prevention. Presented at: PainWeek 2016. Las Vegas, NV; September 6-10, 2016.