September 09, 2016
Optimizing Outcomes in Postoperative Pain Management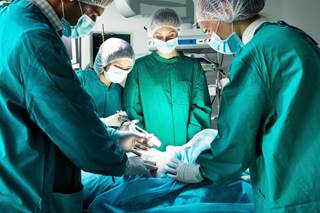 Findings indicate that postoperative pain management is suboptimal in more than half of these patients.
LAS VEGAS—Evidence shows that approximately 80% of patients experience acute postoperative pain, and that one-third of unexpected hospital readmissions following discharge postsurgery are due to pain.1,2
Despite the substantial number of surgical procedures performed in the United States each year—an estimated 46 million on inpatients and 53 million on outpatients—findings indicate that postoperative pain management is suboptimal in more than half of these patients, and chronic pain can develop as a result of undertreated acute pain.3-5
At PAINWeek 2016, Theresa Mallick-Searle, MSN, RN-BC, APN-BC, a nurse practitioner specializing in pain medicine at Stanford Health Care, discussed the consequences of inadequate postoperative pain care and the responsibility of acute care clinicians to understand basic pain management principles.6
"We all have a role in managing pain. We have to remember it's not just about the acute situation that we are managing," Ms Mallick-Searle told the audience. "It's managing the whole patient and the whole picture." The "whole picture" she explained, begins before the surgery when clinicians should discuss pain, as well as during the acute surgery period and in the follow-up and discharge phases.
Managing pain is key, she said, because along with delayed recovery and reduced quality of life, there are numerous examples of poor health outcomes that can result from undertreated pain. Pulmonary problems such as coughing and shallow breathing, gastrointestinal issues such as nausea and impaired digestion, and psychological dysfunction such as anxiety and depression have all been linked to undertreated pain, Ms Mallick-Searle explained.7
The presentation reviewed numerous risk factors for postoperative pain–for example, a history of chronic opioid treatment or inadequately managed postsurgical pain, anxiety and depression, female gender, and younger age.
In addition to intraoperative and postoperative strategies, both generally and for patients with existing chronic pain, Ms Mallick-Searle discussed the need for practitioners to coordinate care with other involved clinicians, consider methods of pre-emptive analgesia, set patient expectations, and adequately prepare the patient for discharge.
Best practices for various types of surgery were reviewed, as well as multiple studies showing improved outcomes for patients treated with multiple methods of analgesia vs standard opiate-based analgesia.
Ms Mallick-Searle is a consultant/independent contractor for Allergan and Depomed, and is on the speakers' bureaus of both companies.
References
Apfelbaum JL

,

C

hen C

,

Mehta SS

, Gan TJ. Postoperative pain experience: results from a national survey suggest postoperative pain continues to be undermanaged.

Anesth Analg

.

2003; 97(2):534-540.

Coley KC

,

Williams BA

,

DaPos SV

,

Chen C

,

Smith RB

. Retrospective evaluation of unanticipated admissions and readmissions after same day surgery and associated costs.

J Clin Anesth.

2002;14(5):349-353.




Buie VC, Owings MF, DeFrances CJ, Golosinskiy A. National hospital discharge survey: 2006 summary. National Center for Health Statistics.

Vital Health Stat

. 2010;13(168).




Hollingsworth JM,

Birkmeyer JD

,

Ye Z

,

Miller DC.

Specialty-specific trends in the prevalence and distribution of outpatient surgery: implications for payment and delivery system reforms.

Surg Innov.

2014; 21(6):560-565.



Chou R, Gordon DB, de Leon-Casasola OA, et al. Management of postoperative pain: a clinical practice guideline from the American Pain Society, the American Society of Regional Anesthesia and Pain Medicine, and the American Society of Anesthesiologists' Committee on Regional Anesthesia, Executive Committee, and Administrative Council. J Pain. 2016;17(2):131-157.


Mallick-Searle T. The role of the advanced practice provider in the acute care setting. APP-01. Presented at PAINWeek 2016; Las Vegas, NV: September 6-10, 2016.




Joshi GP

,

Ogunnaike BO

.

Consequences of inadequate postoperative pain relief and chronic persistent postoperative pain.

Anesthesiol Clin North America.

2005;23(1):21-36.