August 17, 2017
Neonatal Withdrawal Risk Higher With Opioids Plus Psychotropic Drugs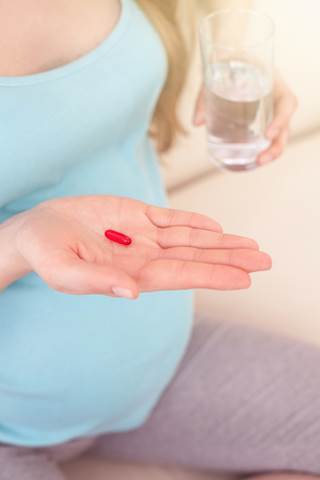 Neonatal drug withdrawal can also occur as a result of exposure to other drug classes, including psychotropic medications.
In an observational cohort study published in BMJ, the infants of women taking opioids concomitantly with psychotropic medications were found to have a substantially heightened risk of neonatal drug withdrawal compared with the infants of women taking opioids alone.1
A significant percentage of the increasing number of people in the United States receiving opioid prescriptions are pregnant women. Previously, large cohort studies reported that 14.4% of pregnant women insured by commercial payers in the United States, and 21.6% of patients insured by Medicaid, filled an opioid prescription at some point during pregnancy.2,3
One potential consequence of intrauterine opioid exposure is neonatal abstinence syndrome (NAS), which can involve "[from] difficulties with feeding and sleeping to more severe complications including impaired thermoregulation, seizures, failure to thrive, and respiratory distress," wrote the investigators in the current study.4 An infant is born every 25 minutes in the United States showing signs of drug withdrawal, and related hospital expenditures averaged $1.5 billion in 2012 (up from $190 million in 2000).5
Neonatal drug withdrawal can also occur as a result of exposure to other drug classes, including psychotropic medications.4 In pregnant women being treated with psychotropic drugs in addition to opioids, it is unclear whether neonatal withdrawal is due to exposure to one or both medications. In these cases, there are "concerns about an increase in the incidence and severity of neonatal drug withdrawal from potential drug-drug interactions," wrote the researchers.
They investigated the risk of drug withdrawal in newborns who had been exposed to both opioid analgesics and psychotropic medications in utero compared with newborns who had only been exposed to opioids. The cohort included 201,275 publicly insured infants and mothers who had filled prescriptions for opioids only or both types of drugs within 45 days of delivery. Data from the nationwide Medicaid Analytic eXtract (MAX) for 2000 to 2010 was used to examine the cohort's demographic and medical information.
In addition to the opioids, the women had filled prescriptions for antidepressants (7.0%), non-benzodiazepine hypnotics (5.0%), benzodiazepines (2.7%), antipsychotics (0.5%), and gabapentin (0.3%). Infants exposed to opioids alone had a 1% absolute risk of withdrawal, while those exposed to non-benzodiazepine hypnotics and gabapentin had an absolute risk of 2.3% and 11.4%, respectively.
The relative risk adjusted for propensity scores were as follows for concomitant exposure to the medications noted: 1.34 for antidepressants (95% CI, 1.22-1.47), 1.49 (95% CI, 1.35-1.63) for benzodiazepines, 1.61 (95% CI, 1.26-2.06) for gabapentin, 1.20 (95% CI, 0.95-1.51) for antipsychotics, and 1.01 (95% CI, 0.88-1.15) for non-benzodiazepine hypnotics. In the adjusted analyses, patients exposed to 1 psychotropic medication in addition to opioids had a 37% higher risk (1.37; 95% CI, 1.26-1.49) of withdrawal, and patients exposed to two or more had double the risk (2.05; 95% CI, 1.77-2.37).
The elevated risk of withdrawal in infants born to women using both "opioids and antidepressants, benzodiazepines, or gabapentin suggest that clinicians should be cautious in prescribing these medications together in late pregnancy and in prescribing psychotropic medications to women with known or suspected illicit opioid use," the authors concluded.
Limitations
The measure used could not definitively capture fetal medication exposure, and the authors could not "exclude the possibility that pediatricians are more likely to diagnose withdrawal in infants with known exposure to polypharmacy…." In addition, they were unable to assess risk of withdrawal in infants of women who were on maintenance treatment with buprenorphine or methadone.
Disclosures
Several of the authors list disclosures within the article.
Summary
Infants of women taking opioid analgesics and psychotropic medications simultaneously have a higher risk of neonatal drug withdrawal than women taking opioids alone, and the risk increases with more than 1 psychotropic drug.

Follow @ClinicalPainAdv
References
Huybrechts KF, Bateman BT, Desa RJ, et al. Risk of neonatal drug withdrawal after intrauterine co-exposure to opioids and psychotropic medications: cohort study. BMJ. 2017; 358:j3326. doi:10.1136/bmj.j3326
Bateman BT, Hernandez-Diaz S, Rathmell JP. Patterns of opioid utilization in pregnancy in a large cohort of commercial insurance beneficiaries in the United States. Anesthesiology. 2014; 120:1216-1224. doi:10.1097/ALN.0000000000000172
Desai RJ, Hernandez-Diaz S, Bateman BT, Huybrechts KF. Increase in prescription opioid use during pregnancy among Medicaid-enrolled women. Obstet Gynecol 2014; 123:997-1002. doi:10.1097/ AOG.0000000000000208
Hudak ML, Tan RC; Committee On Drugs; Committee On Fetus And Newborn; American Academy of Pediatrics. Neonatal drug withdrawal. Pediatrics. 2012;129:e540-60. doi:10.1542/peds.2011-3212
Patrick SW, Davis MM, Lehmann CU, Cooper WO. Increasing incidence and geographic distribution of neonatal abstinence syndrome: United States 2009 to 2012. J Perinatol. 2015;35:650-5. doi:10.1038/ jp.2015.36