May 17, 2017
Bortezomib-Induced Neuropathy From First to Second Treatment for Multiple Myeloma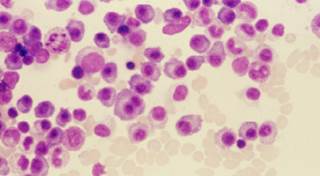 Bortezomib-induced peripheral neuropathy does not worsen between initial treatment and retreatment in patients with multiple myeloma.
Findings of a multicenter retrospective study reported in Supportive Care in Cancer indicate that bortezomib-induced peripheral neuropathy (BIPN) does not worsen between initial treatment and retreatment in patients with multiple myeloma.1
Although bortezomib (a small molecule proteasome inhibitor) is an established treatment option for multiple myeloma, with a substantial body of research to support its efficacy, few studies have focused on the adverse effects associated with the drug. The most common of these effects is BIPN, which has been observed in up to 12% of patients in phase 2 trials.2 Although the cause of BIPN has not been fully elucidated, it is increasingly believed it "may be a proteasome-inhibitor class effect and that autoimmune factors and inflammation may also trigger BIPN," wrote the authors of the current study.3
Previous findings also indicate an association between bortezomib neurotoxicity and disrupted calcium homeostasis.4 In addition, more severe BIPN has been observed in patients with comorbidities that cause peripheral neuropathy, and less severe BIPN has been found in patients in the early stages of multiple myeloma who had received ≤3 previous treatments vs those who had ≥4.5,6 Results of other research suggests a reduced frequency of BIPN with bortezomib retreatment.7
To further clarify this issue, the present investigation examined the incidence and severity of peripheral neuropathy at both initial treatment with bortezomib and at retreatment in 93 patients with multiple myeloma. Data were collected from medical records from multiple oncology centers across the United States. The study also explored factors related to BIPN during retreatment.
No significant change in the incidence or severity of BIPN was observed between the initial and subsequent treatment: during initial treatment, 82% of patients developed BIPN vs 80% during the second regimen. The neuropathy was low-grade in 68% and 66% of patients, respectively, and there was no evidence of cumulative toxicity.
"Although most patients who had BIPN during the initial regimen also had it during retreatment, the BIPN did not worsen for most of these patients despite factors such as the presence of baseline [peripheral neuropathy], number of prior treatments, dose, and comorbidities," supporting bortezomib as a viable treatment option for patients with multiple myeloma, the authors concluded.
Summary & Clinical Applicability
For patients with multiple myeloma, bortezomib may be a suitable treatment option without the risk for severe peripheral neuropathy.
Limitations & Disclosures
Follow-up information was unavailable for some patients, either because the information could not be confirmed in their medical record or because they were still being treated with bortezomib.
The incidence of peripheral neuropathy observed in the present study was higher compared with in previous studies.

Follow @ClinicalPainAdv
References