February 11, 2015
Compound May Provide a Focus For Neuropathic Pain Meds
the Clinical Pain Advisor take:
A newly-discovered compound has potent actions against production of a chemical that is key in chronic pain development following a peripheral nerve injury, according to a study published online.
The compound, a molecule named 6-chloro-8-(glycinyl)-amino-β-carbolin, or 8-Gly carb, provides an important new avenue of research for developing drugs to prevent the severe pain that sometimes remains long after an injury or infection has healed, according to researchers from UC Davis. Their findings are published in The Journal of Pharmacology and Experimental Therapeutics.
The researchers said 8-Gly carb is "a potentially very fruitful focus for new drug development against neuropathic pain syndromes."
The condition is believed to develop from immune cells called microglia, a type of macrophage that resides in the spinal cord and provides an important defense against injury and infection. Following a trauma to a peripheral nerve, microglia release a host of chemicals, among them cytokines that are important for recovery, and nitrous oxide, which is believed to be a key factor in initiating and sustaining inflammation associated with the establishment of neuropathic pain. Inhibiting the production of nitrous oxide at the time of a nerve injury may be an important mechanism to prevent the later development of a chronic pain syndrome, the researchers said in a press release.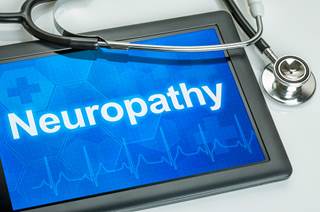 A new compound may provide a focus for medications against neuropathic pain issues.
A new compound discovered by a team of UC Davis investigators has potent actions against production of a chemical that which is implicated in the development of chronic pain following a peripheral nerve injury in the spinal cord.