August 21, 2017
Preemptive Analgesia With Acetaminophen Reduces Headaches Associated With Electroconvulsive Therapy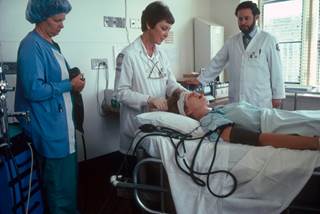 ECT is considered a primary treatment option for life-threatening, severe, and treatment-resistant depressive illness, mania, acute schizophrenia, and catatonia.
A significant reduction in the incidence and severity of headaches associated with electroconvulsive therapy (ECT) was observed in patients receiving preemptive analgesia with acetaminophen (paracetamol), according to a randomized double-blind controlled study recently published in BMC Psychiatry.1
ECT is considered a primary treatment option for life-threatening, severe, and treatment-resistant depressive illness, mania, acute schizophrenia, catatonia, and neuroleptic malignant syndrome demanding prompt treatment response.2 As the benefits from ECT for the treatment of these conditions are observed more rapidly than with pharmacological treatment, this technology is considered 1 of the most effective treatment modalities in psychiatry.3
One of the common adverse effects of ECT is posttreatment headaches, with discomfort peaking at 2 hours after treatment and lasting approximately 24 hours.4
Patients who experience post-ECT headaches may prematurely stop sessions, and face the risk of for relapse.5
In the current study, 126 patients (58.7% women; 43.7% aged 41-60 years) receiving bilateral ECT (for depression, 42.9%; bipolar affective disorder, 31%; schizophrenia with secondary depression, 26.2%) were randomly assigned 1:1 to receive acetaminophen (two 500-mg tablets) or placebo. Exclusion criteria included a history of allergy to acetaminophen, an incapacity to provide informed consent, or the development of post-ECT complications (eg, delirium).
The study was carried out in the psychiatry unit of North Colombo Teaching Hospital, Sri Lanka, from January 2016 to July 2016. All study participants were anesthetized with propofol and administered suxamethonium before receiving bilateral ECT (Thymatron system IV). ECT energy levels were determined on the basis of individual seizure thresholds.
All patients were assessed for occurrence of headaches 2 hours before and after ECT, using a 0 to 10 visual analog scale.
Patients in the acetaminophen group experienced a significant reduction in post-ECT headache incidence compared with the placebo group (36.5% vs 71.4%; P <.001. The median pain score was lower in the acetaminophen group vs the placebo group (0 [interquartile range, 0-2] vs 2 [interquartile range, 0-4]; P <.001).
"Our study showed that acetaminophen administered two hours prior to ECT reduced the incidence and severity of post-ECT headache, one of the commonest adverse effects of ECT," concluded the authors.
Summary and Clinical Applicability
Administration of acetaminophen (1 g) 2 hours before ECT was shown to reduce treatment-associated headaches. This preemptive treatment, in addition to reducing patients' physical discomfort, may improve ECT adherence. "It is worthwhile considering the inclusion of these findings in ECT guidelines for routine practise," noted the researchers.
Limitations and Disclosures
Self-report scales for measuring pain perception are subject to personal bias in interpretation and reporting
Headaches were not assessed beyond 2 hours after ECT.
A slightly higher level of ECT was administered to the acetaminophen group vs the placebo group

Follow @ClinicalPainAdv
References
Isuru A, Rodrigo A, Wijesinghe C, et al. [18] A randomized, double-blind, placebo-controlled trial on the role of preemptive analgesia with acetaminophen [paracetamol] in reducing headache following electroconvulsive therapy [ECT]. BMC Psychiatry. 2017;17:275-281.
Scott AIF. College guidelines on electroconvulsive therapy: an update for prescribers. Advances in Psychiatric Treatment. 2005;11(2):150-156. doi: 10.1192/apt.11.2.150
UK ECT Review Group. Efficacy and safety of electroconvulsive therapy in depressive disorders: a systematic review and meta-analysis. Lancet. 2003;361(9360):799-808
Dinwiddie SH, Huo D, Gottlieb O. The course of myalgia and headache after electroconvulsive therapy. J ECT. 2010;26(2):116-120
Kramer BA, Kadar AG, Clark K. Use of the neuro-wrap system for severe post-electroconvulsive therapy headaches. J ECT. 2008;24(2):152-155