May 18, 2018
Managing Pediatric Migraine: Current Therapies and Future Directions
This article originally appeared
here.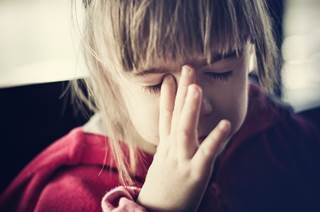 Research specific to pediatric patients is limited; management relies mainly on clinical studies of adults.
Migraine is highly prevalent in children and adolescents, affecting almost 10% of children between 5 and 15 years old and 30% of adolescents between 15 and 19 years old.1 Research specific to pediatric patients is limited; management relies mainly on clinical studies of adults.1,2
Acute Pharmacotherapy Options for Pediatric Migraine
Several options for the treatment of acute episodes are available. Nonsteroidal anti-inflammatory drugs, with ibuprofen being the most studied, have been the mainstay of symptomatic control. Acetaminophen has strong support as well.2
Some triptans, which act on serotonin (5-HT) receptors 5-HT1B, 5-HT1D, and 5-HT1F, may be used in children. Rizatriptan benzoate may be used in children aged 6 to 17 years, whereas almotriptan malate tablets, zolmitriptan nasal spray, and sumatriptan succinate-naproxen sodium may be used in children aged 12 years and older.2
Status migrainosus, defined as a severe episode lasting >72 hours, may necessitate admission to the emergency department and possible hospitalization. Intravenous fluids are considered as a first-line treatment, given their ease of administration. However, evidence does not adequately support its use, and further study is required. Other options include dopamine receptor antagonists, intravenous nonsteroidal anti-inflammatory drugs, dihydroergotamine, valproic acid, corticosteroids, intravenous magnesium, and peripheral nerve blocks.2
Preventing Pediatric Migraine
The mainstay of migraine prevention is antiseizure medication. Topiramate is approved by the US Food and Drug Administration for use in adolescents; however, it has several potential adverse effects, including weight loss, cognitive depression, and paresthesias. Use of valproic acid has some support from previous studies, but it too has potential adverse effects, including thrombocytopenia, sedation, pancreatitis, and hepatotoxicity. Further, valproic acid is a known teratogen.2
Other options include tricyclic antidepressants, calcium channel blockers, and beta-blockers. Tricyclic antidepressants, which are serotonin and norepinephrine reuptake inhibitors, have shown mixed results in pediatric patients. Calcium channel blockers, including flunarizine, have strong evidence of efficacy in children; however, flunarizine is not available in the United States. Propranolol, which is available in the United States, has considerable support for its use as well.2
A nonpharmacologic option may be cognitive behavioral therapy, focused on developing psychological coping strategies for pain. Its current limitation is accessibility, as it is not easily available to all patients throughout the United States.2
Advancements and Future Directions in Migraine Research
To address the paucity of evidence supporting migraine treatment in pediatric patients, investigators from Cincinnati Children's Hospital Medical Center and the University of Iowa collaborated to develop the Childhood and Adolescent Migraine Prevention Study (CHAMP).1-3
CHAMP was a National Institutes of Health-funded randomized, double-blind, parallel group, placebo-controlled trial designed to assess the efficacy and safety of amitriptyline and topiramate, 2 widely prescribed preventive medications for children in the United States, vs placebo.1-3 It was terminated early, as neither of the tested medications performed better than placebo in symptom alleviation. However, this study is still considered a significant advancement in pediatric migraine research.1
For additional insight, Neurology Advisor spoke with headache specialist and key investigator of the CHAMP trial, Andrew Hershey, MD, PhD, professor of neurology at the University of Cincinnati in Ohio, and chairman of the Cincinnati Children's Hospital Medical Center Division of Neurology.
Neurology Advisor: What is most important for practicing clinicians to know about pediatric migraines?
Dr Hershey: First of all, migraine is common in children and adolescents. The burden of migraine makes it 1 of the top 10 health disorders around the world, and it is 1 of the top 2 disorders in neurology. Therefore, early recognition and early intervention are crucial for prevention of long-term disability.
So what do we do about it? The best outcomes come from a multidisciplinary, multitiered approach. This approach includes acute and preventive management, with prevention involving health lifestyle, pharmacology, and biobehavioral interventions. This may include cognitive behavioral therapy, although access to this option may be limited in some parts of the country.
Neurology Advisor: What are some noteworthy advancements in this area?
Dr Hershey: There is the CHAMP study, which was designed to be generalizable, enrolling patients that were typical of those seeking treatment for migraine in neurology and headache practices, not refractory patients.
When the study was completed, almost two thirds of the participants had at least a 50% improvement in their headache frequency, so they all responded equally, including to placebo. What is notable is that this study demonstrated that patients can effectively be treated, it may just not be due to the particular chemicals in the treatments. The next question to be asked from the study is whether they stay better.
The study also shows that preventive studies can be effectively done in children and adolescents. Kids will complete headache diaries and the diary completion rate and ability to collect the data were greater than 90%. Thus, we should not hesitate to do studies in children.
Another point is that although we have historically extrapolated treatment of children from adult studies, we can also extrapolate treatment of adults from studies of kids.
Neurology Advisor: What further studies would you like to see undertaken?
Dr Hershey: There are several active areas of investigation. CGRP antibodies (either to the receptor or CGRP) are being examined. For adults, use of these agents is currently under review by the US Food and Drug Administration for approval. Pending this review, CGRP antibodies may find a role in pediatric and adult practice. We are also exploring several drug and nondrug options, including devices. In general, the future looks bright.
References
Kacperski J, Bazarsky A. New developments in the prophylactic drug treatment of pediatric migraine: What is new in 2017 and where does it leave us?Curr Pain Headache Rep. 2017;21(38).
Patterson-Gentile C, Szperka CL. The changing landscape of pediatric migraine therapy: A review [published online March 12, 2018]. JAMA Neurol. doi: 10.1001/jamaneurol.2018.0046
Powers SW, Coffey CS, Chamberlin LA, et al. Trial of amitriptyline, topiramate, and placebo for pediatric migraine. N Engl J Med. 2017;376:115-124.