May 10, 2017
Head Computed Tomography Safe in Pregnant Women Presenting With Headache in the Emergency Department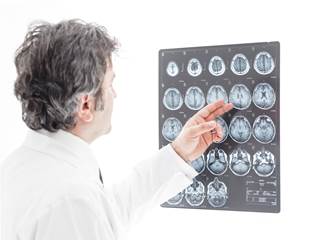 In general, the risk for secondary headache disorders is elevated during pregnancy.
In a retrospective study published in Emergency Radiology, researchers at Pennsylvania State University in Hershey found that magnetic resonance imaging (MRI) is ordered more often than computed tomography (CT) for pregnant patients with headache, despite there being no significant difference in radiation risk.1
More than 3 million people present to the emergency department with headache each year in the United States.2 Women experience headaches more often than men, especially during the reproductive years, and this can be of particular concern during pregnancy. In general, the risk for secondary headache disorders is elevated during pregnancy, and results of previous studies suggest pregnant women with a migraine history may have a higher risk for adverse outcomes.3
These findings underscore the importance of accurately identifying headache type in these patients, for whom the differential diagnosis includes cerebral venous thrombosis, pituitary apoplexy, stroke, and more.4 CT, MRI, and other types of neuroimaging have been shown to reveal an underlying etiology in 27% of pregnant women with emergent headaches.5 There may be apprehension from providers and patients regarding the use of CT during pregnancy, because of radiation-related risks such as microcephaly and carcinogenesis. However, the fetal radiation dose from CT (0-10 mGy) is far below the acceptable threshold of 50 mGy.6
Although radiographic imaging "is often a vital component in the evaluation of patients who come to the emergency department," there is a lack of clear guidelines regarding diagnostic imaging in pregnant patients, wrote the authors of the present study. They aimed to investigate current practice by comparing the types of imaging studies ordered for pregnant (n = 95) and non-pregnant (n = 2790) female patients aged 18 to 52 years presenting to an emergency department for headache.
Compared with non-pregnant patients, head CTs were ordered less frequently for patients who were pregnant (OR, 4.2; P <.0001), and head MRIs were ordered more often (OR 0.49; P =.0127). No differences were found between groups for chest radiography or electrocardiograms. In addition, there were no observed differences in length of hospital stay (4.9 h non-pregnant vs 4.7 h pregnant) or rate of being discharged to home (89.2% vs 83.6%; P =.53).
"Since the amount of radiation to the fetus imparted by a head CT is negligible and the teratogenic threshold is not effected, let alone approached," headache evaluation should be the same for both pregnant and non-pregnant women, the researchers stated. Although more research is needed to inform the development of clear guidelines on the issue, they concluded that "CT scans are also appropriate in this setting and can be more timely and cost-effective" than MRI.
Summary and Clinical Applicability
Apprehension regarding the use of CT in pregnant patients with headache may be unfounded. CT should be considered for such patients when appropriate.
Limitations
The retrospective, single-site design of the study limits generalizability of results, and the lack of knowledge about the ultimate diagnosis after neuroimaging precludes further interpretation.

Follow @ClinicalPainAdv
References