July 16, 2015
Can Cosmetic Surgery Alleviate Pain From Migraines?
the Clinical Pain Advisor take:
Using cosmetic surgery to alleviate pain from migraines isn't the first treatment that pops into a physician's head, but should it be?
Over the years, Cleveland plastic surgeon Bahman Guyuron noticed that patients with cosmetic forehead lifts also recognized pain relief from migraines. At first he believed this was just a coincidence, but he then realized there had to be some kind of a connection.
His team took it a step further by conducting studies. He told the Chicago tribune that his studies show a 92% success rate. Now physicians are trying to get the surgery covered by health insurance companies. They're also trying to build awareness around the cause.
Not everybody agrees that this treatment for migraine pain is the most effective approach. Dr. Elizabeth Loder, chief of the Division of Headache and Pain at Brigham and Women's Hospital, told the Chicago Tribune that additional research is needed. She would like to see clinical trials conducted by those who are not invested in the outcomes. Loder, former president of the American Headache Society, cautioned the public against this surgery back in 2013.
It's also important to mention that not everybody is a candidate for the surgery. Patients suffering from chronic migraines are the ideal candidate for the procedure. These individuals are typically suffering from eight to 15 headaches a month -- and, most importantly, medication isn't alleviating any of the pain.
Approximately 1,100 patients in the country have undergone the procedure, according to Guyuron's office. Patients can either get local or general anesthesia.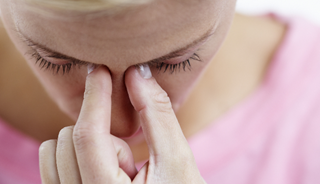 Patients suffering from chronic migraines are the ideal candidate for the procedure
Bryan Kirsch knew something was wrong when the stairs moved.
After roughhousing with his children in 2011, he was walking upstairs with one when, he remembered, "I look up the stairs, and the whole world is spinning." Thus began three years of near-constant pain from migraines.
Sign Up for Free e-Newsletters
Check out what's trending