May 04, 2016
Meditation for Patients With Chronic Low Back Pain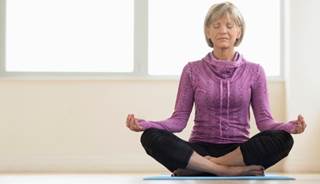 Meditation has been found to compare favorably to other types of therapy for low back pain and can be a significantly effective addition to the management of this challenging condition.
Chronic low back pain is a leading cause of pain and disability, and represents a common challenge for primary care physicians to manage. Several recent studies, however, have found clinical benefits from mindfulness-based stress reduction (MBSR) meditation programs for conditions including chronic pain, anxiety, and depression.1 Findings from these new studies suggest that patients with chronic low back pain can also benefit from mindfulness meditation.1-3
A small randomized control trial from Germany, published in Complementary Therapies in Medicine, compared an 8-week meditation program to a self-care exercise program in 68 patients with chronic low back pain.1
The patients in the meditation group were enrolled in weekly meditation sessions and were asked to practice meditation at home. The primary outcome was reduced pain at rest after 8 weeks. The researchers found that both exercise and meditation resulted in clinically significant improvement in symptoms of low back pain. Although the researchers concluded that meditation and exercise were comparably effective, they recognized the need for larger studies of longer duration.1
Two More Comprehensive Studies
Another randomized control trial from investigators at the University of Pittsburgh School of Medicine compared an 8-week program of MBSR to a health education program in 282 patients aged 65 years or older with chronic low back pain.2 The results of the study were published in JAMA Internal Medicine.
The primary end points were improvement in physical function and pain. The study included a 6-month follow-up assessment. Using a disability questionnaire and a numerical pain rating scale at 8 weeks, MBSR patients engaging in MBSR reported improvement compared to the education group. At the 6-month assessment, 76% of the patients in the MBSR group still noted improvement in back pain symptoms and improvement in their ability to cope with pain.2
"We found about a 30% reduction in pain with mindfulness meditation. The results were both statistically and clinically significant," says Natalia Morone, MD, associate professor of medicine at the University of Pittsburgh School of Medicine, and corresponding author of the study.
Another study published in JAMA compared MBSR along with yoga, cognitive behavioral therapy (CBT), and usual care in 342 adults with chronic low back pain. The meditation group engaged in a weekly meditation course for 8 weeks. End points were improvement in functional limitation and self-reported pain. At 26 weeks, participants in both the MBSR and CBT groups experienced clinically meaningful improvement in function and pain as compared to those in the usual care group. For pain, the comparisons were 43.6% improvement for MBSR, 44.9% for CBT, and 26.6% for usual care (P=.01). These improvements remained constant at 52 weeks.3
Meditation Compared to Other Therapies for Chronic Low Back Pain
Many different treatments are used for chronic low back pain. These include exercise, CBT, analgesics, anti-inflammatory meds, injections, and physical therapy. Do these recent studies suggest that meditation is about as effective as any other modality? "Research shows that a variety of approaches for treating chronic low back pain, including meditation, are effective. But no specific therapy is highly effective because chronic back pain is nonspecific by nature," says Daniel C. Cherkin, PhD, lead investigator at Group Health Research Institute in Seattle, Washington, and corresponding author of the MBSR/CBT study.5
"Dan Cherkin's study and our study found comparable effectiveness for meditation. Both were large studies that were well designed, with significant follow-up periods. We had older patients, and they included younger patients. As compared to other modalities for chronic pain, you could say that the effectiveness of meditation is in the same ballpark," says Dr. Morone.4