August 04, 2015
6 Ways To Alleviate, Prevent Lower Back Pain
the Clinical Pain Advisor take:
It's not uncommon for a patient to complain about lower back pain; it affects 38% of people worldwide every year, according to the National Institutes of Health (NIH). When a patient with back issues does walk into your office, there are several ways to alleviate the pain and prevent additional pain from occurring in the future.
Dr. Ritu Zacharias, a spine and physical medicine specialist at both Henry Ford Hospital in Detroit and Henry Ford West Bloomfield Hospital, provided The Detroit News with a list of ways physicians can assist patients with lower back pain issues.
"Avoid narcotics to treat routine low back pain," Zacharias told The Detroit News. "These medications can cause constipation and create dependence, among other untoward side effects. The only time you should turn to this is for severe acute pain and under the guidance of a physician in an appropriate setting."
Here are the tips:
Stretch -- This can alleviate pain and prevent pain.
Apply heat or cold -- It depends on the pain. Try different temperatures to find out which works best for your patient.
Alternative therapies -- Could something else work for your patient? What about physical therapy, acupuncture or chiropractic treatment? Test out various treatments to find out what works.
Does your patient smoke? -- Smoking decreases blood flow to muscles, which in return slows down the healing process.
Rest, sort of -- Tell them to take it easy but stress the importance of no bedrest.
Yoga might work -- Yoga is known for preventing low back pain. It aims to reduce stress while improving strength and flexibility.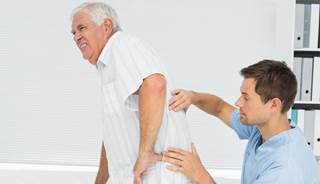 Most adults will experience low back pain at some point in their lives.
Most adults will experience
low back pain
at some point in their lives -- more than 80 percent of people, according to the National Institutes of Health. It is the most common cause of
job-related disability
and a leading contributor to missed work days in the U.S.
Sign Up for Free e-Newsletters
Check out what's trending