February 09, 2015
Modified Criteria for Fibromyalgia Could Boost Totals
the Clinical Pain Advisor take:
Applying the proposed 2010 modified American College of Rheumatology fibromyalgia classification criteria may double the number of fibromyalgia cases, according to a report published in Arthritis and Rheumatology.
Compared to the less than 2% of people who fulfilled the 1990 and proposed 2010 criteria, more than 5% of the general population would fulfill the modified 2010 criteria, reported Gareth T. Jones, PhD, of the University of Aberdeen in Scotland, and colleagues. The modified 2010 criteria rely more heavily on self-reported pain and a simplified, self-reported version of somatic symptoms.
The researchers screened 1,604 people on pain, symptoms, and rheumatologic diagnoses. Of the 269 that reported chronic widespread pain according to the 1990 criteria or modified 2010 criteria, 104 agreed to attend a research clinic for a physical exam. Thirty-one percent of the group met at least one set of criteria for fibromyalgia: 11 for 1990 criteria, seven for 2010 criteria, and 27 for the modified 2010 criteria. The prevalence of fibromyalgia was 1.7% for 1990 criteria, 1.2% for 2010 criteria, and 5.4% for modified 2010 criteria.
Notably, the male to female ratio decreased across the scale, with the highest female to male ratio based on the 1990 criteria (13.7:1) and the lowest with the modified 2010 criteria (2.3:1).
The researchers concluded that the modified 2010 criteria identified patients based more on somatic symptoms than pain. Additionally, the modified 2010 criteria showed improved sensitivity but decreased specificity compared to the 1990 criteria.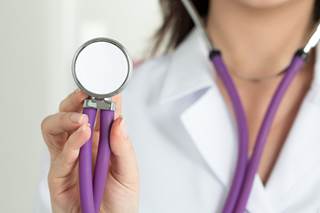 Modified 2010 Criteria for Fibromyalgia Boosts Prevalence
The American College of Rheumatology (ACR) 1990 fibromyalgia classification criteria are based on the presence of widespread pain and tenderness. In 2010, new criteria were proposed that focused more on multiple symptoms, and these criteria were later modified to require only self report of symptoms. The current study aimed to determine the population prevalence of fibromyalgia and to compare differences in prevalence using the alternative criteria.
A cross-sectional survey was conducted. Questionnaires, including items on pain, symptoms, and rheumatologic diagnoses, were mailed to 4,600 adults in northeast Scotland. Participants who had chronic widespread pain or those who met the modified 2010 criteria, plus a subsample of other participants, were invited to attend a research clinic.
Sign Up for Free e-Newsletters
Check out what's trending