December 12, 2017
New Guidelines for Managing Chronic Pain in Patients With HIV
This article originally appeared
here.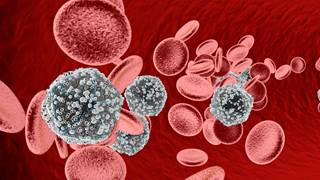 The new guidelines cover the screening and initial assessment process, approaches to chronic pain management, and more.
The HIV Medicine Association (HIVMA) of the Infectious Diseases Society of America (IDSA) has released new guidelines for the management of chronic pain in patients living with human immunodeficiency virus (PLWH).1 This article provides a brief summary of the guidelines.
Recommended Approach to Screening and Initial Assessment of PLWH and Chronic Pain
All PLWH should receive brief standardized screening for chronic pain. A biopsychosocial approach should be used; and appropriate monitoring should take place. (Table 1)
Recommended General Approach to Management of PLWH and Chronic Pain
Healthcare providers should develop and participate in interdisciplinary teams
For patients with controlled pain, any new report of pain should be carefully investigated. While the issue is being evaluated, these patients may require added treatments or adjustment in the dose of pain medications
Clearly document new symptoms
Consult with a provider experienced in pain management of PLWH or with a pain specialist
Recommended Therapeutic Approach to Chronic Pain for PLWH at the End of Life
Age-related and HIV-related changes and comorbidities may cause changes in pain experiences in patients with HIV. Clinicians should address these changes in the context of disease progression.
A multidisciplinary team approach is necessary for maintaining pain control and communicating with the patient and his/her support system.
Clinicians should use language that patients and families can understand and may need to schedule longer appointments to work out the goals of care
Consult with a palliative care specialist
For patients with advance illness, a support system beyond the clinician might be necessary and the primary care clinician should remain in communication with the patient and family through the end of life for accurate continuity of care and to avoid a sense of abandonment on the patient's part.
Recommended Nonpharmacologic Treatment for Chronic Pain in PLWH (Table 2)
Recommended Pharmacologic Treatments for Chronic Neuropathic Pain in PLWH (Table 3)
The authors recommend early initiation of antiretroviral therapy, gabapentin, capsaicin, medical cannabis, and alpha lipoid acid (ALA).
The authors recommend against using lamotrigine.
Recommended Nonopioid Pharmacologic Treatments for Chronic Nonneuropathic Pain in PLWH
The authors recommend acetaminophen and nonsteroidal anti-inflammatory drugs (NSAIDs) as first-line agents for musculoskeletal pain, noting that acetaminophen has fewer side effects than NSAIDs.
Lower dosing is recommended for those with liver disease.
Recommended Opioid Pharmacologic treatments for Chronic Nonneuropathic Pain in PLWH (Table 4)
The authors recommend a time-limited trial of opioid analgesics for patients who do not respond to first-line therapies, report moderate-to-severe pain, and experience functional impairment.
Recommended Approach for Assessing Likelihood of Developing Negative, Unintended Consequences of Opioid Treatment in PLWH
All patients should be assessed for potential risk of developing misuse, diversion, and addiction prior to prescribing opioids
Recommended Approach to Safeguarding PLWH Against Harm While Undergoing Treatment of Chronic Pain with Opioids
The authors recommend routine monitoring and an "opioid patient-provider agreement (PPA)." (Table 5)
Recommended Methods to Minimize Adverse Effects from Chronic Opioid Therapy in PLWH
The authors offer recommendations regarding storage of medication, patient education, and drug-drug interactions. (Table 6)
Recommended Approach to Prescribing Controlled Substances for Chronic Pain to PLWH and History of Substance Abuse Disorder
The authors recommend careful evaluation and risk stratification. Those with a history of addiction for whom the risks outweigh benefits should have their pain "reasonably managed by other therapies" and also receive emotional support, close monitoring/reassessment, and linkage to addiction treatment and mental health services. They emphasize that a history of addiction or substance abuse disorder is not an absolute contraindication to receiving controlled substances and a universal precautions approach should be applied uniformly to patients.
Recommended Approaches to Pharmacologic Management of Chronic Pain in PLWH Who are Taking Methadone for Opioid Use Disorder
The authors recommend a sign release, an initial screening protocol, dosing, and alternative strategies if prescribing additional methadone is contraindicated. (Table 7)
Recommended Approaches to Pharmacologic Management of Chronic Pain in PLWH Who Are Taking Buprenorphine for Treatment of Opioid Use Disorders
Clinicians should use adjuvant therapy for mild-to-moderate pain, increase dose of buprenorphine, consider switching to transdermal formulation, and consider adding other opioid agent. (Table 8)
Recommended Screening Instruments for Common Mental Health Disorders in PLWH
The authors recommend reviewing a patient's baseline mental health status for modifiable factors that affect successful pain management, use specific screening instruments, and recommend a full neuropsychiatric evaluation. (Table 9)
Table 1
Screening and Initial Assessment
Recommendation
Commentary/Details
Standardized screening

How much bodily pain have you had during the last week (none, very mild, mild, moderate, severe, very severe)
Do you have bodily pain that has lasted for >3 months?
A response of moderate pain or more during last week plus bodily pain for >3 months can be considered a positive screen result

If patient screens positive on initial assessment

Use biopsychosocial approach that includes:

An evaluation of the pain's —

Onset and duration
Intensity and character
Exacerbating and alleviating factors
Past and current treatments
Underlying or co-occurring disorders and conditions
The effect of pain on psychological function

Physical examination
Psychosocial evaluation
Diagnostic workup
Pain assessment tools can include

Brief Pain Inventory (BPI)
3-item pain health questionnaire (PEG)

Monitoring patients

Periodically assess progress on achieving functional goals
Documentation of pain intensity, quality of life, adverse events, and adherent vs aberrant behaviors
Conduct assessments at regular intervals and after each change/initiation of therapy after an adequate amount of time
Table 2
Nonpharmacologic Approaches for PLWH
Modality
Features, Rationale
CBT

Acceptance of responsibility for change
Development of adaptive behaviors (eg. exercise)
Addressing maladaptive behaviors (eg, avoidance of exercise due to fear of pain)

Yoga

Treatment of chronic neck/back pain, headache, rheumatoid arthritis, general musculoskeletal pain

Physical/occupational therapy
Hypnosis
Acupuncture

A trial might be considered for chronic pain
CBT=cognitive behavioral therapy
Table 3
Pharmacologic Treatments for Chronic Neuropathic Pain in PLWH
Treatment
Recommendations
Antiretroviral therapy

Early initiation recommend for preventing/treating HIV-associated distal symmetric polyneuropathy

Gabapentin

First-line oral pharmacologic treatment
Typical adult regimen titrates to 2400mg/day in 2 divided doses
Improves sleep scores, somnolence
Patients with inadequate response might receive

Trial of SNRIs
Trial of TCAs
Trial of pregabalin for patients with post-herpetic neuralgia

Medical cannabis

May be effective in appropriate patients
Relatively high value placed on symptoms reduction, relatively low value placed on legal implication of medical cannabis possession
May be more effective for patients with prior cannabis use
Balance potential benefits against potential risks of neuropsychiatric adverse effects
Balance potential benefit against harmful effects of smoked forms in patients with preexisting severe lung disease
Balance risks of addiction in patients with cannabis use disorder

Alpha lipoic acid

For peripheral difficult-to-treat neuropathic pain
May be helpful for patients with diabetic neuropathy

Lamotrigine

Not recommended
May cause lamotrigine-related rash

Opioid analgesics

Do not use as first-line agents
Potential risk of pronociception, cognitive impairment, respiratory depression, endocrine/immunological changes, misuse/addiction
Consider time-limited trial for patients who do not respond to first-line therapies and report moderate-to-severe pain
Use smallest effective dose
Combine short- and long-acting opioids
HIV=human immunodeficiency virus; SNRI-serotonin-norepinephrine reuptake inhibitors; TCS=tricyclic antidepressant
Table 4
Opioid Analgesics for PLWH
Agent
Comments/Rationale
Opioids as a class

Balance potential benefits with potential risks of adverse events, misuse, diversion, and addiction
As second- or third-line treatment, typical adult regimen should start with lowest effective dose and combine short- and long-acting opioids

Tramadol

Up to 3 months of use
May decrease pain and improve stiffness, function, overall well-being in patients with osteoarthritis
Use 37.5mg combined with 325mg of acetaminophen once/day to 400mg in divided doses
Table 5
Safeguarding Against Opioid-Related Harm
Recommendation
Comments/Rationale
Routine monitoring

Consists of several components

Urine drug testing
Pill counts
Prescription drug monitoring programs

Opioid patient-provider agreement (PPA)

Tool for shared decision-making
Consists of 2 components

Informed consent
Plan of care

Consider broad differential diagnosis when patient's behavior is inconsistent with PPA

Urine drug testing

Understand clinical uses/limitations
Understand test characteristics
Understand differential diagnosis of abnormal results
Table 6
Recommended Methods to Minimize Adverse Opioid-Related Events in PLWH
Recommendation
Comments/Details
Safe storage

Store safely away from individuals at risk of misuse/overdose

Patient/family education

Educate family members about overdose signs
Have poison control number readily visible
Teach patients/caregivers about use of naloxone to reverse overdose and have naloxone rescue kit available
Educate patients/caregivers about adverse effects related to drug-drug interactions

Be knowledgeable about drug-drug interactions

Be prepared to identify/manage these interactions
Follow patients closely when interactions are likely
Table 7
Pharmacologic Management of Chronic Pain in PLWH Who Are Taking Methadone
Recommendation
Comments/Details
Collaboration with opioid treatment program

Obtain signed release
Maintain ongoing communication with program for assessment/periodic monitoring

Initial screening

Electrocardiogram to identify QTc interval prolongation
Helpful if patient is taking other medications that may additively prolong QTc interval

Splitting methadone doses

Divide into 6- to 8-hour doses
Some programs may offer split-dose regimen, alternatively medical provider may need to prescribe remaining doses

If additional methadone not possible

Additional medication alternatives

Gabapentin for neuropathic pain
NSAIDs for musculoskeletal pain
Additional opioid

Acute exacerbations of pain ("breakthrough")

Use small amount of short-acting opioids
Table 8
Treating PLWH and Chronic Pain Who Are Taking Buprenorphine
| | |
| --- | --- |
| Recommendation | Comments/Details |
| Use adjuvant therapy for mild-to-moderate breakthrough pain | Includes nonpharmacologic treatments, steroids, nonopioid analgesics, and topical agents |
| Increase dosage of buprenorphine | Increase in divided doses as an initial step |
| If maximal dose of burprenorphine is reached | Add long-acting potent opiod (eg, fentanyl, morphine, hydromorphone) |
| If additional opioid is ineffective | Closely monitor trial of higher doses |
| If there is inadequate analgesia | Transition patient to methadone maintenance |
Table 9
Recommended Instruments for Screening Common Mental Health Disorders in PLWH and Chronic Pain
Recommendation
Comments/Details
Review patient's baseline mental status for modifiable risk factors

Self-esteem/coping skills
Recent major loss/grief
Unhealthy substance use
History of violence/lack of safety in the home
Mood disorders
Serious mental illness/suicidal ideation

Screen patients for depression

2-question screen

During past 2 weeks have you been bothered by feeling down, depressed, hopeless?
During past 2 weeks have you had little interest/pleasure in doing things?

If affirmative, ask if patient would like help

Use screening tool

Patient Health Questionnaire-9 (PHQ-9) recommended

Screen for comorbid neurocognitive disorders

Includes frequent memory loss, slower reasoning, planning activities, or solving problems, difficulties paying attention

Neuropsychiatric evaluation

Recommended for all patients with chronic pain to establish baseline capacity

Follow @ClinicalPainAdv
Reference
Bruce RD, Merlin J, Lum PJ, et al. 2017 HIV Medicine Association of Infectious Diseases Society of America clinical practice guideline for the management of chronic pain in patients living with human immunodeficiency virus. Clin Infect Dis. 2017 Oct 30;65(10):1601-1606.