February 18, 2015
As Opioid Dose Increases, So Too May Depression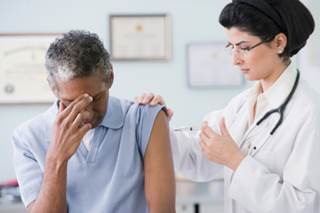 Patients who increased doses of opioid medicines to manage chronic pain were more likely to experience increased depression.
Boosting opioid intake to manage chronic pain may also boost a patient's propensity for depression, according to a recently-published study.
Jeffrey Scherrer, PhD, associate professor for family and community medicine at Saint Louis University, and his colleagues studied questionnaires from 355 patients from nine practices who reported chronic low back pain initially and at one-year and two-year follow ups.
The questionnaire assessed anxiety, depression, pain, and overall quality of life, as well as other parameters.
The researchers noted that duration of use was largely correlated with new-onset depression.
Further research into this area, Scherrer noted in a press release, supports that duration of opioid use, and not dose, largely drove depression risk.
Writing in their study, the researchers speculated "that treating depression or lowering morphine equivalent dose may mitigate a bidirectional association and ultimately improve pain management."
In the press release, Scherrer noted that determining risk factors, such as opioid misuse, might "expand the targets for intervention to limit the risk of depression in patients who need long-term opioid therapy."
Reference
1. Scherrer J, et al. Pain. 2015; DOI: 10.1097/01.j.pain.0000460316.58110.a0