June 17, 2015
Many Veterans Who Died from Opioid Overdoses Had Also Received Benzos
the Clinical Pain Advisor take:
Half of veterans who died from drug overdoses had been prescribed both opioids, for pain, as well as benzodiazepines for conditions like anxiety, and insomnia, according to a recent analysis of post mortem VA records conducted and presented by by Rhode Island Hospital, Boston Medical Center, and the Veteran Affairs Ann Arbor Healthcare Systems
Veterans that were prescribed both opioids and benzodiazepines in a higher dosage were at a greater risk of death than those who were given a lower dosage.
Patient records of veterans who died from drug overdoses while receiving medical services as an outpatient at the Veterans Health Administration between October 2004 and September 2009 were examined for the relationship between the opioids and benzodiazepines when prescribed concurrently.
"From a public health perspective, this is deeply troubling, because drug overdoses are a leading cause of death in the U.S. and prescribing benzodiazepines to patients taking opioids for pain is quite common. In 2010, 75% of pharmaceutical-related drug-overdose deaths involved opioids," said Tae Woo Park, MD, attending physician at Rhode Island Hospital "As we learn more about pharmaceuticals and how they interact with each other, we can try to reduce the risk of harm to patients."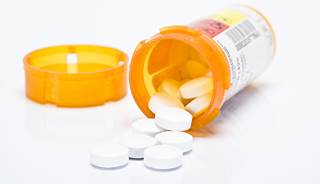 Hydrocodone painkillers face increased federal restriction
In a recent study, nearly half of all veterans who died from drug overdoses while prescribed opioids for pain were also receiving benzodiazepines, or benzos, which are common medications for the treatment of anxiety, insomnia and alcohol withdrawal.
Veterans prescribed higher doses of benzodiazepines while concurrently receiving opioids were at greater risk of overdose death than those on lower doses of benzodiazepines.
Sign Up for Free e-Newsletters
Check out what's trending