March 19, 2015
New Study Will Test European Treatment for Back Pain
the Clinical Pain Advisor take:
The University of Pittsburgh will lead a study to determine whether more aggressive, European treatment can more effectively prevent acute lower back pain from becoming a chronic condition.
They were awarded $14 million to complete the study over a five-year period by the Patient-Centered Outcomes Research Institute.
The study, called Target, will test European treatment against usual care in which the patient's doctor decides on a treatment. It will include 60 primary-care clinics, each of which will be randomly assigned to follow either of the two treatment protocols.
In total, the study will include 2,640 patients who have acute lower back pain that manifests less than half of the time over a period of 6 months. The study is focusing on preventing acute back pain from becoming a chronic condition, which can be harder and more expensive to treat.
The study will be led by Anthony Delitto, PhD, PT, FAPTA, the chairmen of the University of Pittsburgh department of physical therapy in the School of Health and Rehabilitation Sciences.
"Certain patients are more inclined to worry that when their back hurts they are further harming it, causing them to become inactive," he said. "That can seriously impede recovery and cause further damage, leading to chronic back pain."
According to the Journal of the American Medical Association study, chronic back pain accounts for $86 billion in annual health care costs in the United States.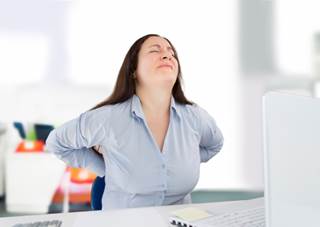 The study will include thousands with lower back pain.
After he'd battled lower back pain for three months with hot showers, analgesic heat rubs and heating pads, it finally happened. Chris Roth awoke one morning barely able to move.
Sign Up for Free e-Newsletters
Check out what's trending