May 12, 2015
Survey Indicates Adults Sacrifice Due to Back Pain
the Clinical Pain Advisor take:
According to a new survey, the majority of people suffering from back pain have had to cut back on various activities due to their pain.
The survey included 1,068 participants who were aged at least 18 years. Participants were invited via email to complete an online survey that included questions about back pain and posture.
The majority of participants with back pain reported that it made them feel older, with 64% of participants saying it made them feel an average of 21 years older. Additionally, 76% of back pain sufferers reported that they had to cut back on certain activities because of pain: 40% said they exercise less often, 25% said they play with their children less often, and 12% said they have less sex.
The National Centers for Health Statistics estimates that 80% of adults in the United States will experience back pain in their lifetime. However, only 23% of survey participants knew that correcting their posture can improve their back pain symptoms.
Applying ergonomic principles to improve posture can help reduce back pain. Because many people in the United States live a sedentary lifestyle, experts recommend adopting proper sitting posture to alleviate symptoms. Sitting with your pelvis supported, limbs perpendicular to the floor, and neck held at a neutral position are some best practices.
The survey was commissioned by BackJoy, a company that makes posture-improving devices. It was conducted by the insights firm Kelton between Feb. 25 and March 4, 2015.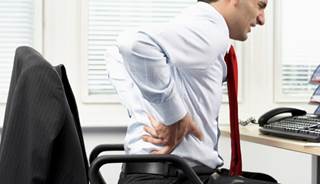 Correcting posture can help alleviate back pain.
BOULDER, Colo.--(BUSINESS WIRE)--Eighty percent of Americans will experience back pain in their lifetime1, and millions are unable to find long-term relief. According to a recent survey commissioned by BackJoy, a company that makes posture-improving products, only 23 percent of Americans realize that simply correcting posture often has a positive effect on back pain. For National Correct Posture Month, BackJoy presents a look at what Americans are saying about their back pain, posture, and exactly how far they would go – and have gone – to find relief.
Survey results include:
Goodbye, Youth. Think you feel old? Sixty-four percent of Americans say their back pain makes them feel older than they are, by an average of 21 years.
Sign Up for Free e-Newsletters