February 11, 2015
Cutting Back or Ceasing Treatment May Be Option for RA
the Clinical Pain Advisor take:
More than 50% of patients who tapered or stopped their antirheumatic medications remained in remission at six months, according to a study published online.
A group of German researchers assigned 101 patients to one of three treatment groups - the patients either continued on their medications, tapered their medications, or stopped them completely.
The researchers noted that 34 patients relapsed, and the incidence of relapse was largely linked with anticitrullinated protein antibodies positivity.
There were some study limitations, according to the researchers, notably the lack of blinding and radiographic data. The research team also noted small differences in baseline use of methotrexate and disease duration, which they said, may have also influenced the study's outcomes.
Regardless, the researchers noted that their findings demonstrated how key such research is as better medications are developed and more patients go into states of remission.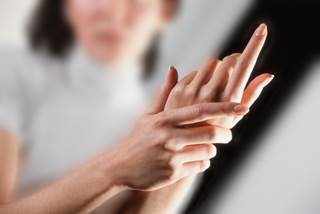 Halting treatment may be an option for patients with rheumatoid arthritis.
Once in persistent remission, only about half of patients with rheumatoid arthritis relapsed within 12 months after tapering and then stopping their disease-modifying anti-arthritis drugs (DMARDs), a prospective randomized study found.
Sign Up for Free e-Newsletters