May 18, 2017
Repeat MRI May Not Benefit Patients With Chronic Spine Pain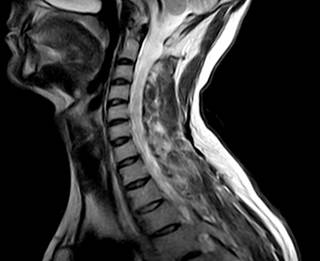 This study was prompted by an increase in the rate of lumbar MRI in recent years.
Repeated magnetic resonance imaging (MRI) for chronic spine pain does not impact occurrence of surgical treatment or interval changes, according to research presented at the American Pain Society's 36th Annual Scientific Meeting in Pittsburgh, Pennsylvania.1
The researchers from Wellspan Interventional Pain Center, York, Pennsylvania, sought to determine whether obtaining multiple MRIs in patients with chronic pain in the neck or lower back presented advantages, as this practice results in increased costs and may be harmful to patients. The study was prompted by the observation that the rate of lumbar MRI had greatly increased in recent years and was not associated with improved patient outcomes.2
A total of 89 patients (65.2% women; mean age, 59.1 years; mean body mass index, 31.2 kg/m2) who had undergone repeated MRI (n = 192; 67% lumbar spine; 32.3% cervical spine) between June and August 2015 were included in the study. The investigators collected demographical, weight, and diagnostic data, as well as data regarding radiologic changes in MRI reports (ie, worsening of disk abnormality) and occurrence of surgery following imaging.
This assessment indicated that no interval changes were observed on 60.8% of lumbar spine MRIs and 75.8% of cervical spine MRIs. Severe changes were reported in 34.6% of lumbar and 33.4% of cervical spine MRIs. The mean time between MRIs was 2.9 years and 2.0 years for severe changes and no changes on cervical spine, respectively (P =.215), and 2.6 years and 1.7 years for severe changes and no changes on lumbar spine, respectively (P =.018). No patients underwent surgery following lumbar MRI, and only 7 did after cervical MRI.
The researchers conclude that "Significant number of repeat MRIs did not show interval changes or [result] in surgical treatment post-imaging."

Follow @ClinicalPainAdv
References