May 18, 2017
Transcranial Direct Current Stimulation Effective for Knee OA Pain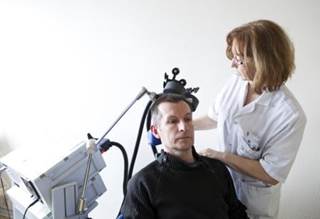 tDCS, a noninvasive technique, exerts its effects by depolarizing or hyperpolarizing cortical neurons.
Transcranial direct current stimulation (tDCS) can effectively alleviate osteoarthritis (OA)-related knee pain, according to results from a double-blind, randomized and sham-controlled pilot clinical study presented at the American Pain Society's 36th Annual Scientific Meeting in Pittsburgh, Pennsylvania.1
The knee joint is the most affected one in individuals with OA, the most prevalent type of arthritis and itself a major cause of disability in individuals aged ≥45 years. Although OA pain is commonly managed pharmacologically, these treatments (eg, tapentadol, corticosteroids) are often associated with adverse effects.2,3 Neuromodulation of central pain pathways therefore represents an attractive alternative for the treatment of chronic pain, including knee OA-related pain. tDCS, a noninvasive technique increasingly used for the treatment of several conditions that include chronic pain, as well as motor and psychiatric disorders, exerts its effects by depolarizing (anodal tDCS) or hyperpolarizing (cathodal tDCS) cortical neurons.4,5
The current study aimed to evaluate the efficacy of tDCS in alleviating knee OA pain. Study participants (n = 40; mean age, 59 years; ages 50 to 70 years; 53% women) were randomly assigned to receive tDCS (2 mA) or sham tDCS for 20 minutes daily over a 5-day period. tDCS electrodes were placed on the primary motor cortex of the side contralateral to the painful knee (anode) and on the supraorbital region ipsilaterally (cathode).
Upon session completion, participants in the tDCS group showed improved analgesia compared with patients in the sham tDCS group, as indicated by reported pain ratings (on a 0 to 100 numeric scale: 18.50 ± 3.60 vs 6.45 ± 2.26; mean difference 12.05 [P =.007]).
"[These] preliminary results show that tDCS reduced clinical pain severity in adults with knee OA. Further studies with larger samples and longer-term follow-ups are needed," concluded the researchers.

Follow @ClinicalPainAdv
References