November 09, 2017
New Drug Application Submitted for Olinvo to Treat Acute Pain
This article originally appeared
here.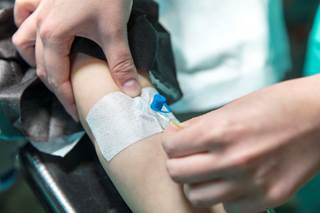 Olinvo was administered to manage pain in a wide range of procedures, including orthopedic, gynecologic, colorectal, general, and plastic surgeries.
Trevena has submitted their New Drug Application (NDA) to the Food and Drug Administration for Olinvo (oliceridine injection) for the management of moderate to severe pain in the hospital and similar settings.
Olinvo is a next generation IV analgesic and the first G protein biased ligand of the mu receptor, a new class of opioid receptor modulator. The NDA includes data from two Phase 3 APOLLO pivotal studies and also the ATHENA study. In total 1,100 patients were administered Olinvo during the studies.
The APOLLO-1 and APOLLO-2 trials evaluated the efficacy of oliceridine for 48 hours following bunionectomy and 24 hours following abdominoplasty, respectively.
Patients received a loading dose of placebo, morphine 4 mg or oliceridine 1.5 mg, followed by on-demand doses of the same study drug (morphine 1 mg or oliceridine 0.1 mg, 0.35 mg, or 0.5 mg) via patient controlled analgesia. Results from APOLLO-1 showed that all three doses of oliceridine (0.1 mg, 0.35 mg, 0.5 mg) demonstrated statistically greater analgesic efficacy than placebo at 48 hours post-bunionectomy (P <.0001). Additionally, findings from the APOLLO-2 study showed that all 3 oliceridine doses demonstrated statistically superior responder rates vs placebo at 24 hours post-abdominoplasty.
In the ATHENA study, 772 patients were administered Olinvo to manage pain associated with a wide range of procedures and diagnoses. The most frequent procedures were orthopedic, gynecologic, colorectal, general, and plastic surgeries.
"Despite availability of non-opioid analgesics and advances in multimodal analgesia, tens of millions of patients still require IV opioids following surgery, during severe illness, or after trauma," said Maxine Gowan, PhD, CEO. "We look forward to working with the FDA during the review process and to a potential NDA approval of Olinvo in 2018."
In a statement, the Company said they expect Olinvo to be a Schedule II controlled substance.

Follow @ClinicalPainAdv
Reference
Trevena announces submission of new drug application to US FDA for Olinvo (oliceridine injection) [press release]. Chesterbrook, PA: Trevana; November 2, 2017. Accessed November 9, 2017.