June 05, 2017
Transcutaneous Supraorbital Neurostimulation as Prophylactic Treatment for Chronic Migraine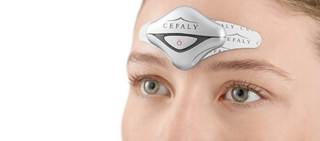 Chronic migraine is associated with significant disability burden and medication overuse, and is less responsive to treatment than episodic migraine.
According to new research reported in Neurological Sciences, transcutaneous supraorbital neurostimulation provides an effective prophylactic treatment for patients with chronic migraine, as it was shown to reduce the number of migraine days and lower medication use.1
Chronic migraine is associated with significant disability burden and medication overuse, and is less responsive to treatment than episodic migraine. Multiple invasive neurostimulation techniques (eg, vagus nerve stimulation and deep brain stimulation) have shown efficacy in treating primary headache. However, noninvasive and effective alternatives such as those used for the prevention of migraine without aura would be preferable. 2,3
Although transcutaneous supraorbital neurostimulation with the Cefaly device was found to be safe and effective in preventing episodic migraine,4 and is currently used for that indication in clinical practice, the technique had not previously been evaluated in patients with chronic migraine. In the present investigation, researchers examined the efficacy and safety of the device for migraine prophylaxis in this population.
Adult patients with chronic migraine lasting at least 1 year were recruited from 3 headache centers in Italy (n=23; 78.3% women; mean age, 43.7±13.6 years). Medication overuse was observed in 60.9% of study participants, and the mean duration of chronic migraine was 10.7±8.7 years. Participants were required to meet various other inclusion criteria, including normal neurological examination and neuroimaging findings, absence of major illness and pregnancy, and no participation in a medication overuse withdrawal program within the last year.
During the 3 months preceding the initial visit, patients recorded their number of headache days and analgesic consumption. They then received training for the device, which they were instructed to use at home for 20 minutes daily over a period of 4 months; they were also asked to continue recording headache days and medication use for acute pain relief. These records were checked at monthly follow-up visits, and the devices were checked for correct use. The primary endpoints were reductions of at least 50% in monthly headache days and analgesic use.
Within 1 month of enrollment, 3 patients dropped out because of inability to tolerate transcutaneous supraorbital neurostimulation, and another patient dropped out after developing another comorbidity. Among the remaining 19 patients, there was a mean reduction in monthly migraine days of 31.0% and a mean reduction in acute medication use of 49.6%. Both study endpoints were achieved by 34.8% of participants.
"The results are encouraging and suggest that this form of neurostimulation may have efficacy similar to that of established pharmacological prophylactics" for chronic migraine, the authors stated. These preliminary findings warrant a randomized controlled trial to evaluate the use of the Cefaly device in these patients.
Summary and Clinical Applicability
These preliminary results show that transcutaneous supraorbital neurostimulation leads to reductions in migraine days and medication use in patients with chronic migraine.
Limitations
The sample size was small (n=19), and the open-label design may introduce bias.

Follow @ClinicalPainAdv
References
Di Fiore P, Bussone G, Galli A, et al. Transcutaneous supraorbital neurostimulation for the prevention of chronic migraine: a prospective, open-label preliminary trial. Neurol Sci. 2017;38(Suppl 1):201-206. doi: 10.1007/s10072-017-2916-7
Jurgens TP, Leone M. Pearls and pitfalls: neurostimulation in headache

.

Cephalalgia

. 2013;33(8):512-525. doi: 10.1177/0333102413483933

Magis D, Schoenen J. Advances and challenges in neurostimulation for headaches

.

Lancet Neurol

. 2012;11(8):708-719. doi: 10.1016/S1474-4422(12)70139-4

Schoenen J, Vandersmissen B, Jeangette S, et al. Migraine prevention with a supraorbital transcutaneous stimulator: a randomized controlled trial

.

Neurology

. 2012;80(8):697-704. doi: 10.​1212/​WNL.​0b013e3182825055