April 14, 2015
BCA Advocates Four-Step Plan To Relieve Back Pain
the Clinical Pain Advisor take:
In the same week the American Chiropractic Association recommended a "conservative" approach to back pain, the British Chiropractic Association is suggesting a four-step plan to address the issue.
According to officials with the BCA, the prevalence of back and neck pain has risen by almost 10% in the last year, from 77% to 86%.
The BCA data indicate that, of those in pain, almost one in four (24%) report pain on a daily basis. Younger people are feeling the strain with more than one in three (45%) 16-24 year olds currently living with neck or back pain compared to 28% last year (18-24 year olds).
As part of Chiropractic Awareness Week officials with the BCA warned that Britain's sedentary epidemic is contributing to the rise in back and neck related problems, as sitting is revealed as one of the top triggers of neck and back pain.
With an increasingly ingrained sitting culture in the UK, the BCA is calling for a step change in how people treat their backs, both at work and at home, in a bid to help combat the nation's neck and back pain problems, including:
Sitting up straight:

The BCA advises patients to relax when sitting into seats, making sure they have the bottom against the seat back with their shoulder blades touching the back rest of the chair.

Being computer compatible:

Making sure the top of the screen is level with the eyebrows and the chair is titled slightly forward, allowing for the knees to be lower than the hips and the feet to be flat on the floor.

Taking regular breaks: The BCA is advising against sitting for more than 20-30 minutes at a time - stand up to stretch, change position and walk around a little.

Drinking Up! The BCA is advising drinking water instead of tea or coffee.
For more information on how to maintain a healthy posture and help keep neck and back pain at bay, the BCA has developed 'Straighten Up' — a simple, three minute exercise program for all ages.
To watch a video with more information, visit this site.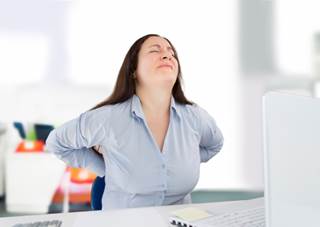 Four step plan could address painful back issues.
Experts have drawn up the list in a bid to help tackle what they warn is fast becoming the UK's "sedentary epidemic". They say that long hours in the workplace combined with couch-potato lifestyles mean people spend too long sitting down every day.