September 19, 2016
Read about the research presented at AAPM 2016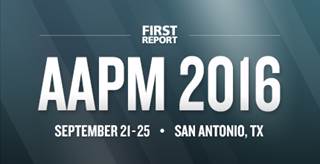 Follow our live coverage.
The American Academy of Pain Management's Annual Meeting will take place September 21-25 in San Antonio, Texas.
Clinical Pain Advisor will bring you live coverage on:
Best practices for opioid use for chronic pain
Osteopathy for chronic musculoskeletal pain
Lifestyle choices for patients with pain
Treatment of myofascial pain
Multidisciplinary approach to back pain
And much more, including interviews with renowned pain practitioners and researchers from around the country.